Bio Stimulant Foliar Spray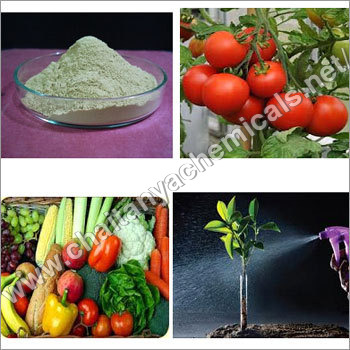 Bio Stimulant Foliar Spray
Product Description
Our clients can avail from us the top quality Bio Stimulant Foliar Sprays. The offered foliar sprays are formulated using superior quality chemicals such as phosphorus, potassium, nitrogen, amino acids, calcium and other essential minerals & bio activators. These minerals are used in agricultural fields to enhance the metabolic process of the soil, thus improve the growth of the plants. We formulate the Bio Stimulant Foliar Sprays with the following norms and parameters laid by the industry.
Features:
Improve seed germination
Increase yield due
Stimulate photosynthetic activity
Stimulate plant growth
Probiol Biostimulant Foliar spray is the complete bio organic nutrition, developed by Chaitanya. It is ready to repack organic plant growth, promoting water soluble formulation available in 25 kg bulk packing in powder form.
ProBiol: (Balanced Organic Nutrition With Bio Simulators Spray Formulation). It is a ready made formulation specially developed for foliar spray applications. It is a unique combination of organic nitrogen (N), amino acids, phosphorus(P), potassium (K), calcium (Ca), essential minerals, trace elements , vitamins and natural bio activators. It acts as a bio stimulator and are easily absorbed and utilized by plant due to its organic nature. It fulfills the nutritional demand and accelerates the metabolic processes, thus enhances the activity of naturally available enzymes and hormones in plant and enhances overall metabolism in plants.
These changes help in the formation of food materials such as carbohydrates, proteins & other essential metabolites in the plants. It results into higher seed germination, higher chlorophyll content, higher flowering & higher fruit setting & accelerated growth & development, by stimulating cell division, cell differentiation and enlargement in the plant and it also helps in root development. It improves the size, coloration & keep the quality of fruits & improves the shelf life after harvesting. The ProBiol is Eco-friendly, naturally derived product & free from any toxic effect & can be safely used till harvesting.
Benefits:
ProBiol improves the nutritional availability & nutritional uptake and their utilization.
It stimulates the hormonal synthesis & activity in the plant.
It stimulates the root formation &promotes the beneficial microbial activity in the root zone.
It stimulates photosynthetic activity & metabolic activity of the plants.
It boosts up the growth and development of plant resulting into vigor, and Improve the quality and yields.
It improves seed germination due to stimulating metabolic activity.
It improves the size, coloration & keep the quality of fruits & improves shelf life after harvesting.
It stimulates plant growth by accelerating cell division, cell enlargement helps in improvement of size, shape & color of the fruits.
It improves the resistivity of plant to tolerate in adverse conditions.
It increases yield due to better stimulating phenomena.
It improves enzymatic activity, chlorophyll content of the plant.
It induces flowering &fruit setting & reduces the flower/fruit drop resulted due to hormonal & nutritional imbalance.
Product Details:
| | |
| --- | --- |
| Minimum Order Quantity | 1000 Kilogram |
| Pack Type | 25 kg bulk |
| Usage/Application | Plant Nutrition |
| Usage | Agriculture Sea Weed Fertilizer for foliar application |
| Brand | Chaitanya |
| Organic | Organic |
| Form | Powder |
| Solubility | 100 % water Soluble in water |
| Release Type | Controlled |
| Manufacturer | Chaitanya |
| Is It Environment Friendly | Environment Friendly |
| Grade Standard | Industrial Grade |
| Pack Size | 25 kg |
Contact Us
S. No. 120/2, Umbarnala Road, Laxmi Nagar, Malkapur, Buldana Maharashtra India +918037301418
Phone :+918037301418