Chelated Micronutrient Fertilizers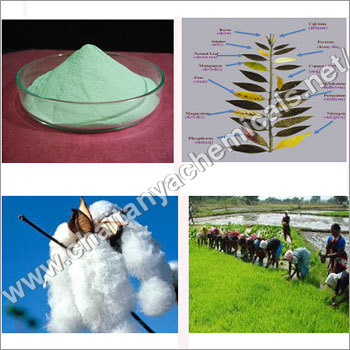 Chelated Micronutrient Fertilizers
Price And Quantity
Product Specifications
Product Description
Crops require 17 essential nutrients to grow normally. The essential nutrients required for growth in small amount are referred to as micro nutrients, because they are needed in small amounts. They are Boron (B), Chloride (Cl), Copper (Cu), Iron (Fe), Manganese (Mn), Molybdenum (Mo), Nickel (Ni) and Zinc (Zn). Micro nutrients are important for plant growth, as plants require a proper balance of all the essential nutrients for normal growth and optimum yield.
Protamine a unique formulations of mix & single minerals salts with organic nitrogen derived from vegetable or animal origin proteins (i.e., Soya / Casein / Gelatin etc.) in the form of free amino acids, short chained peptides & complexed with various mineral salts for better availability of minerals.
Plants absorb the organic nitrogen (Hydrolysed Protein) along with mineral ions quickly & easily. Amino Acids (digested proteins) have a chelating effect on minerals. When applied together with minerals, the absorption and transportation of minerals inside the plant is easier. This effect is due to the chelating action and to the effect of cell membrane permeability. L - Glycine & L - Glutamic acid are known to be very effective chelating agents. This is present in ProtaMin Mix.
The Salient Features :
ProtaMine has a high percentage of biological value & nutritive value.
ProtaMine contains all essential amino acids & minerals, which are precursors of phytohormones & other growth substances & accelerate the Metabolic, & Physiological activity of plant.
ProtaMine provides the vital minerals to growing crop in most bio-available form.
ProtaMine before, during and after the stress conditions supplies the plants with Amino Acids & Minerals which are directly related to stress physiology and thus has a preventing and recovering effect.
ProtaMine helps to optimize growth & yield by correcting micronutrient deficiencies of crops like cotton, sugarcane, cereals, pulses, vegetables, fruit crops, floriculture etc.
ProtaMine contains most of essential as well as non-essential amino acids in short chained peptide, di-peptide & polypeptides forms which binds with the mineral ions to form a complex which allows the effective, easier absorption & active utilization by the plants.
ProtaMine is organic, nontoxic & an eco-friendly product fulfills the nutritional demand of the plants.
Recommendations:
Packing : 25 Kg in Multiple wall BOPP Paper Bag.
Dissolve 200-250 G ProtaMine in 200 lit. Water and spray on crops. 2-3 spray are recommended at an interval of 2 weeks depending on the age and type of the crop.
Trade Information
Yes

Free samples are available
Packing in Containers

Asia, Australia, Central America, North America, South America, Eastern Europe, Western Europe, Middle East, Africa
All India

ISO-9001-2008 Eco Cert FSSC
Contact Us
S. No. 120/2, Umbarnala Road, Laxmi Nagar, Malkapur, Buldana Maharashtra India +918037301418
Phone :+918037301418