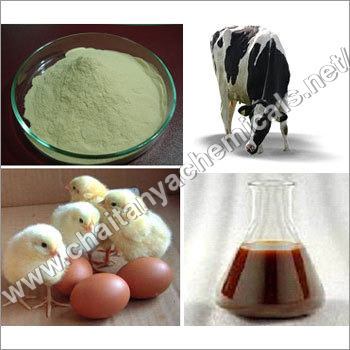 Hydrolysed Protein Powder
Product Code : OPP 16
Price And Quantity
Minimum Order Quantity

:

1000
Unit of Measure

:

Ton/Tons
Product Description
Animal Protein Digest - Hydrolysed Protein Powder
With our expertise in this domain, we are able to offer our valued customers with premium grade Hydrolysed Protein Powder. The powder offered by us are formulated using short-chained peptides as well as non-essential amino acids. These compounds are used as cattle feeds as these help the animals to gain weight and ensure normal growth. Being soluble in water, the Organic Protein Powder can be fed in powder and liquid form.

Other Details:

Protein Digest is a spray dried powder containing mixture of various essential as well as non-essential amino acids, & short-chained peptides .This power is called Protein Hydrolysate or Hydrolysed Proteins. Protein is required for the normal growth of animals. It is easily absorbed by the animal. It a source of organic nitrogen in the form of essential amino acids or other nitrogenous compounds It is useful in weight gain in beef production. Higher Protein supplement found to be essential during gestation & lactation period.

Protein Digest is derived by control hydrolysis non soluble protein into soluble hydrolyed form protein which consists of Amino acids,in unique nature of water soluble condition. This powder & liquid form feed supplement is easy to handle and free from toxins.
We offer Range of Protein Feed Concentrate product range :

Protein Digest H Pro (Soluble Protein Concentrate with Protein 75-80%) Powder
Protein Digest M Pro (Partially Digested Protein with Protein 55-60%) Powder
Protein Digest L Pro (Protein Concentrate with Protein 40%) Liquid
Protein Digest is available in spray dried, 100% soluble powder, & miscible liquid form contains free amino acids and having excellent palatability.

High digestibility due to efficient elimination of anti nutritional factors & toxins.
High biological value of protein, due to a well-balanced of bound & free amino acid composition.
Excellent source of free amino acids, like Lysine, Methonine & short chained peptides.
Improves growth rate and meat quality, milk production.
Stimulates feed intake & improves the diet digestibility.
Highly digestible & concentrated form of protein reduces the cost of feed formulation.
Improve the metabolic activities of the animals.
Improves productive parameters & health of animal.
Better feed conversion ratio, better growth rate, and better meat quality.
Correct the protein deficiency syndrome like lower appetite, weight loss, poor growth, depressed reproductive performance, reduced milk production etc.
Uniform quality and extended shelf-life.
Potent, nutrient, safe & non-Toxic product.
Increase production of Eggs and Weight gain, Aquaculture (Weight, Color & Health).
Protein Digest. (Partially Digested Organic Protein Concentrate)

It is partially digested mixed protein. The insoluble native proteins are converted into partially soluble proteins due to the active enzymes & thus the slurry obtained is soluble & insoluble protein fraction. The soluble fraction comprises free amino acids, dipeptide, tripeptides & polypeptide. It is easily absorbed by the animal.
The insoluble fraction contains non digested protein & partially digested cellulosic matter, which play important role in bowel movement in digestive system.
Packing : Powder : 25 Kg in Multiwall BOPP Paper Bag
Liquid : 200 Kg in HDPE Drums
Technical Specifications

| | |
| --- | --- |
| Type | Feed Supplementation |
| Brand Name | Protein Digest |
| Purity | 100% |
| Certification | Ecocert, ISO |
| Use | Animal and poultry feed Supplementation |
Contact Us
164/1, Behind S.T. Stand Hanuman Nagar, Malkapur, Buldana, Maharashtra, 443101, India
Phone :91-7267-223435/223239/222570/224966