Mineral Glycinates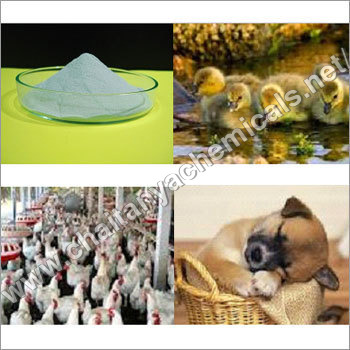 Mineral Glycinates
Product Description
We have emerged as a reputed organization, engaged in manufacturing and exporting top quality Mineral Glycinates. They are formulated using amino acids and other high quality chemicals, to ensure best quality glycinate. These minerals are mostly demanded by our clients for their accurate composition, effectiveness and health benefits. The Mineral Glycinates are mainly used in agricultural and farming industries for feeding cattle and chickens to provide essential nutrients during their growth.

Features:
Increases muscle & tissue growth
Improve lean meat/less fat
Reduce animal performance.
Improve growth and feed conversion
Enhance fertility
Decrease conception rates
Help in the utilization and control of carbohydrates and protein in the body



Reduce the stress conditions:

A mineral amino acid chelate is a product resulting from the reaction of metal in a soluble metal salt with amino acids, that is, glycine with a mole ratio of one mole of metal to one to three mole of amino acids to form co ordinate covalent bonds.

The bonding between a mineral and an organic molecule creates a stable compound. The organic material facilitates absorption while protecting the mineral from antagonists or anti metabolites in early digestive stages. The mineral can then be absorbed more readily at the proper stage of digestion and utilized more efficiently by the animal.

The mineral amino acids chelate has been proven as useful tools in trace mineral supplementation. Organic forms stable in various pH levels of the gut has been proven to offer highest bio availability.
The most important thing is the stability of the connection between the amino acids and the salt of the trace element. The covalent binding between these products causes an unusual molecular stability.

We offer:
Chromium Glycinate
Selenium Glycinate
Zinc Glycinate
Manganese Glycinate
Magnesium Glycinate
Molybdenum Glycinate.
Calcium Glycinate
Boron Glycinate
Cobalt Glycinate
Ferrous Glycinate
Protein Digest - Mineral Glycinate
Iodine Glycinate
Copper Glycinate

Iodine Glycinate Iodine is a key component of thyroid hormones involved in energy metabolism rate regulation in the body. The iodine deficiency is characterized by enlargement of the thyroid. Goitrogenic substances in feeds suppress thyroid function and can affect iodine requirements. In white clover, thiocyanate is derived from cyanate and impairs iodine uptake by the thyroid. It is a nutritional animal feed supplement formulated to prevent and/or correct Iodine deficiency in animals.

Selenium Glycinate Selenium is an important part of the enzymes glutathione peroxidase and iodothyronine deiodinase. The glutathione peroxidase helps prevent oxidative damage to tissues. The latter enzyme is involved in thyroid hormone metabolism. The functions of vitamin E and selenium are interrelated. The diets which are low in vitamin E may require selenium supplementation.

The selenium deficiency can lead to white muscle disease, a condition discussed in detail later in the nutritional disorders section of this publication. Calves may experience compromised immune response even when no other clinical signs of selenium deficiency are present. Unthriftiness, weight loss, and diarrhea are other deficiency signs.

Chromium Glycinate Chromium is a trace mineral involved in glucose clearance. Immune response and growth rate in stressed cattle has been shown to improve with chromium supplementation. However, beef cattle producers do not need to be concerned about chromium supplementation under normal circumstances.

Molybdenum Glycinate is the product resulting from the chelation of molybdenum with amino acids and/or partially hydrolyzed proteins as. It is a nutritional animal feed supplement formulated to prevent and/or correct molybdenum deficiency in animals.

Improve microbial activity in intestine.
Part of many enzymes.
Reduce copper toxicity.
Product Details:
| | |
| --- | --- |
| Minimum Order Quantity | 1000 Kilogram |
| Brand | Chaitanya |
| Dosage Form | Oral |
| Usage | Nutritional |
| Shelf Life | 3 year |
| Animal Type | Cattle, Poultry . Horse Aqua culture |
| Packaging Size | 25 kg |
| Storage | Cool & dry Place |
| Country Of Origin | India |
| Grade Standard | Feed Grade |
| Crude Protein | Hydrolysed Soluble Protein |
| Is It Organic | Organic |
| Packaging Type | Multiwall BOPP Paper BAg |
| Form | Powder |
Trade Information
Yes

Free samples are available
Packing in Containers

Asia, Australia, Central America, North America, South America, Eastern Europe, Western Europe, Middle East, Africa
ISO-9001-2008 HALAL Certification
Contact Us
S. No. 120/2, Umbarnala Road, Laxmi Nagar, Malkapur, Buldana Maharashtra India +918037301418
Phone :+918037301418