Selenium Enriched Yeast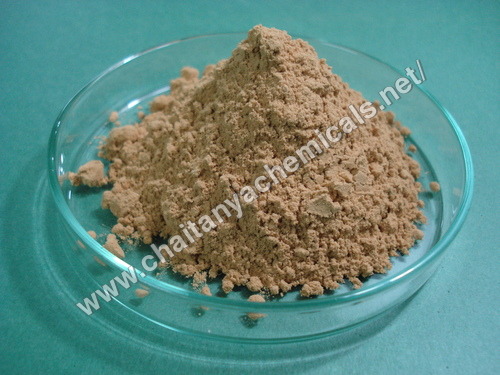 Selenium Enriched Yeast
Product Description
Chaitanya is a leading manufacturer of Yeast and yeast based products for seasoning and food & nutraceuticals application. Selenium enriched yeast is special yeast which can provide selenium along with intra cellular yeast protein and polysaccharides Selenium enriched Yeast is rich in various amino acids, polypeptide, nucleotides, B-Complex vitamins. Selenium is essential trace mineral & play major role in various bio metabolism like protein synthesis , immunity, growth .It is a fine, free flowing, slightly hygroscopic, spray dried yellow to light brown colored hygroscopic powder.
Features:
Natural and healthy.
Enhanced bio availability.
Rich in natural nucleotides.
Natural source of Selenium and Amino Acids.
Natural source of Vitamins & Polysaccharide.
Application:
Selenium enriched yeast rich in natural amino acids, vitamins & nucleotides can be used in all kinds of food, functional and health food.
Selenium enriched yeast is used as ingredient in nutrient fortified formulations like , biscuits , drinks, flours and dairy products.
We also manufacture :
Chromium Enriched Yeast
Zinc Enriched Yeast
Copper Enriched Yeast
Specification :
.
PRODUCT

Selenium Enriched Yeast (Food Gr.)

DESCRIPTION

FINE, FREE FLOWING, SLIGHTLY HYGROSCOPIC SPRAY DRIED POWDER.

COLOUR

YELLOW TO LIGHT BROWN COLOURED POWDER.

ODOUR

TYPICAL.

SOLUBILITY

2% SOLUTION IN DISTILLED WATER IS PARTIALLY SOLUBLE, SOLUTION IS OPEQUE.

pH OF 2 % SOLUTION

5.50 TO 7.00 AT 270 C. OR AS PER REQUIRMENT.

LOSS ON DRYING

NMT 7.00% AS ESTIMATED BY AOAC METHOD

CHEMICAL PARAMETERS: (ON DRY WT. BASIS)

NITROGEN CONTENT(N)

NLT 5.50 % W/W AS ESTIMATED BY KJELDAHLS METHOD.

PROTEIN (NX 6.25)

NLT 35 .00 % W.W.

SELENIUM as Se

2000 mg/kg

MICROBIOLOGICAL PARAMETER:

TOTAL PLATE COUNT

NMT 10,000 CFU PER GRAM.

YEAST & MOULDS

ABSENT.

E. coli.

ABSENT.

SALMONELLA

ABSENT.

We Also Offer Tailor Made Product As Per Customers Requirement.
Contact Us
S. No. 120/2, Umbarnala Road, Laxmi Nagar, Malkapur, Buldana Maharashtra India +918037301418
Phone :+918037301418